bed and breakfast in cilento
As a family-run bed and breakfast, we strive to provide our guests with more than just a place to sleep. Our warm and welcoming environment offers the perfect setting for you to fully experience the best that the region has to offer while on holiday. From the moment you walk through our doors, you'll be greeted with a refreshing and rejuvenating atmosphere that will help you unwind and truly enjoy your time with us.
Bed and Breakfast in Cilento
Bed and Breakfast in Cilento: benvenuti a casa!
Meet Katrien and Emilio, the passionate Italian-Belgian couple behind our family-run Bed and Breakfast in the charming town of Sessa Cilento. Nestled in the picturesque countryside, our B&B offers the perfect setting for a relaxing retreat and a taste of authentic Italian Dolce Vita. As avid travelers ourselves, we understand the importance of warm hospitality and personalized service. We are excited to welcome you into our home and help you discover the beauty of this wonderful region. Come and experience the warmth and charm of our B&B and the hospitality of Katrien and Emilio.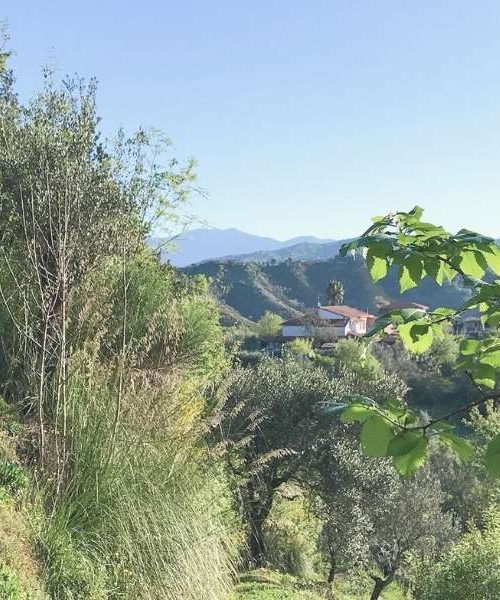 The Benvenuti nel Sud Bed and Breakfast is more than just a place to rest your head – it's the perfect launchpad for all your Cilento adventures! Whether you're in the mood for a lazy day at the beach, a scenic hike through the mountains, or a deep dive into the historical treasures of Paestum (just 32 km away!) and Velia (only 18 km away!), we've got you covered. And if you're feeling extra adventurous, hop on over to Marina Casalvelino (only 14 km away!) and set sail for the Blue Cave of Palinuro or other breathtaking sights along the Cilento coast.
But let's not forget about Salerno – one of the crown jewels of Campania! If you're in the mood for some serious shopping, the best pizza in town, or a delicious "gelato" ice cream, head on down to the sea promenade and prepare to be wowed. There's truly something for everyone in this magical seaside town!
Rise and shine! Start your day off right with a delicious Italian breakfast, on us. And if you have any dietary restrictions or preferences, just give us a heads up – we're more than happy to whip up something special just for you. Whether you choose to savor your breakfast on our lovely terrace or in the comfort of your own room, the choice is yours.
While we're on the subject of convenience, we highly recommend that our guests either arrive by car or rent one during their stay. Public transportation in the area can be a bit spotty, but don't worry – we've got you covered with our free private parking area for guests. And for those of you who simply can't bear to be without your beloved pets, fear not – we happily welcome them with open arms. Just let us know ahead of time so we can prepare accordingly.
Last but not least, we understand how important it is to stay connected even when you're on vacation. That's why we offer free WiFi access in all our rooms and common areas, so you can stay plugged in while you unplug. So what are you waiting for? Book your stay today and experience the magic of Cilento with us!
B&B Facilities
Are you looking for an exceptional travel experience? Look no further! Our bed and breakfast is committed to providing every guest with the best possible stay. We believe that attention to detail and personalized service make all the difference, and we go above and beyond to ensure your time with us is unforgettable.
Strategic Location
Located at the heart of Cilento National Park, our bed and breakfast provides convenient access to all the top points of interest in the area, ensuring you can make the most of your stay and explore everything this stunning region has to offer with ease.
Mountains Views
Nestled atop a tranquil hillside and surrounded by the breathtaking natural beauty of Cilento National Park, our location at Benvenuti nel Sud is truly a nature lover's paradise.
Breakfast
Starting your day with a delicious and nutritious breakfast is essential before embarking on your journey to uncover the hidden treasures of the region. 🙂
Pet Friendly
To ensure a comfortable stay for all of our guests, please inform us of your furry friend's arrival when you book. We have our own cats and dogs who are also part of the family, and we look forward to welcoming your pet to join in on the fun.
Ready to plan an unforgettable experience in Cilento? Let us help make it happen! With our cozy and comfortable bed and breakfast as your home base, you can easily explore all the amazing sights and attractions this stunning region has to offer. Whether you're seeking adventure, relaxation, or a little bit of both, we're here to help you plan the ultimate getaway. So why wait? Book your stay with us today and get ready to make memories that will last a lifetime!
We're here to help you plan your stay so that it fits your needs and preferences!